Il big bang dell'immaginario fantastico: Moebius
Submitted by

masayume

on 21 August, 2011 - 07:13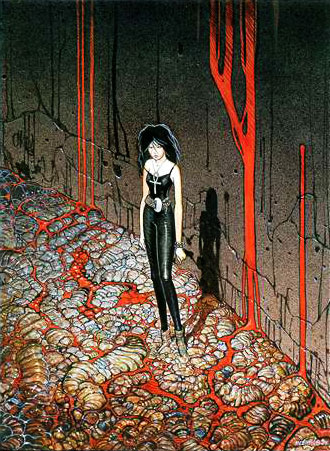 Jean Giraud, Gir, Moebius, tanti nomi per questo eclettico genio francese che si sa essere da decenni una delle più influenti fonti di ipirazione nel lavoro di tantissimi altri artisti.
Il documentario inglese "In search of Moebius" raggruppa molti dei suoi lavori, e coglierne l'insieme mozza davvero il fiato. Moebius era l'artista di punta di "Metal Hurlant", una rivista che ha rivoluzionato il mondo del fumetto nei primi anni '70. La sua serie Arzach ha influenzato moltissimo il primo capolavoro di Miyazaki, Nausicaa.
Poi lo sbarco a Hollywood e la collaborazione con Dan O'Bannon per la storia breve "the long tomorrow" (che influenzerà l'estetica di Blade Runner) e soprattutto per il capolavoro di Ridley Scott: Alien. Moebius troverà modo di disegnare anche i costumi e le scenografie di Tron.
Nel frattempo innumerevoli copertine e la prosecuzione delle saghe dell'Incal con Jodorowski e di Blueberry,fino alla collaborazione con Stan Lee per l'epico one shot sul Silver Surfer: Parable.
image: omaggio a Death, di Neil Gaiman
In Search of Moebius - Jean Giraud clip1/3
In Search of Moebius - Jean Giraud _clip2/3
Potrebbero interessarti anche...