Submitted by

masayume

on 4 July, 2005 - 04:00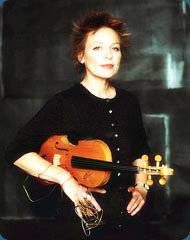 Saranno i capelli sparati, sempre quelli da almeno trent'anni. Sarà il cognome in comune con Neo di Matrix. Saranno canzoni come "Oh Superman" o "Language is a Virus". Sarà che è stata la prima "artista residente" alla NASA per due anni. Sarà che non c'è un nome per molte delle cose che fa sul palcoscenico, ma Laurie Anderson è un'Artista decisamente fuori dal comune.
Il suo spettacolo: "The end of the Moon" è arrivato nella piazza forse più bella di Bologna. Storie e canzoni intime espresse con violino e tecnologia ispirate al primo lavoro di una futura trilogia: "Happiness" (2002), nel quale la cantante racconta le sue esperienze come inserviente in un McDonalds di New York o in una fattoria Amish.
foto &copy by booker.de
* un bravo a chi coglie il gioco di parole del titolo