Submitted by

masayume

on 15 June, 2008 - 04:00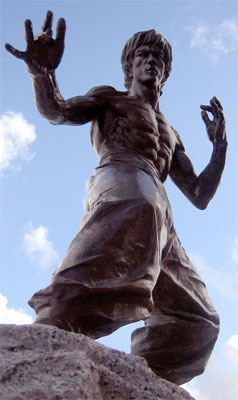 Bruce Lee, non ha bisogno di presentazioni, basta semplicemente il suo status di leggenda a rendere interessante la sua lista di 7 consigli sulla vita, scelti da Henrik Edberg.
Nessuno di questi ha a che fare con il combattimento, ma ognuno e' profondamente intriso della proverbiale saggezza cinese.
Bruce Lee Statue on the Avenue of the Stars, Hong Kong
by Roy Chung
UPDATE: History Channel ha recentemente messo in onda il miglior documentario sulla stella di Hong Kong. Come Bruce abbia influenzato la vita di moltissime persone, sia diventato un eroe, abbia cambiato per sempre il modo in cui erano visti i cinesi negli USA e nel mondo, ed abbia cambiato anche il modo in cui i cinesi vedono loro stessi, sia stato il padre del mix di arti marziali usate nei tecenti tornei di combattimento, in soli 4 film partendo da un budget di soli 100.000 dollari sia arrivato a far guadagnare 200 milioni con "Enter the Dragon", abbia fatto esplodere la moda mondiale del kung fu e molto, molto altro.
UPDATE: "Be like water"
Bruce Lee's Never-Before-Seen Writings on Willpower, Emotion, Reason, Memory, Imagination, and Confidence
pinterest
youtube
L'unico in grado di stendere Chuck Norris ! :-)
Donnie Yen vs Bruce Lee
Ping pong con i nunchuck !