Submitted by

masayume

on 20 August, 2004 - 04:00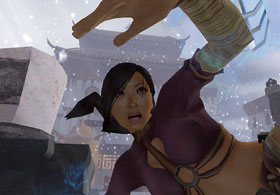 Chi ama la Cina e gli ultimi due film di Zhang Yimou: "Hero" e "The house of the flying daggers" sta per ricevere un fantastico regalo. Si chiama Jade Empire, un RPG per XBOX come non se ne sono mai visti.
Impossibile non fare un richiamo a "The Way of the Exploding Fist 2" di Mebourne House, di quasi 20 anni fa per Commodore 64. In fondo è lo stesso gioco, ma l'ambiente circostante è la Cina mitica dei Draghi e delle incredibili arti marziali. Ci sono tre personaggi selezionabili e l'avventura sembra nascere sotto i migliori auspici.
"zhai jien"