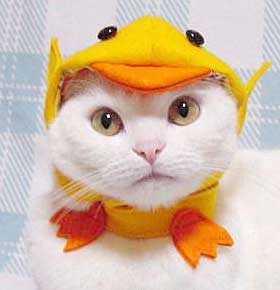 "This is a dear chicken transformation set. It is made from the two-tone felt cloth of yellow and orange, and even if it takes, it is finished to the pop impression. Please observe the feather of the chicken currently attached to the both sides of a hat. please imagine a profile when a cat covers it is as dear as it blows off involuntarily — since it can equip with the head volume to which the reed of a chicken also attached hat on a piece of Velcro, attachment and detachment are easy."
Come amante dei gatti non posso non segnalare anch'io questa trovata giapponese troppo buffa. (ulteriori risate garantite con la traduzione automatica dal giapponese all'inglese).
per chi ne vuole ancora: marinaretto, sciarpina, cravatta, colletto, pecora nera, rana.