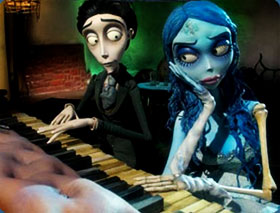 Tim Burton trionfa al botteghino USA con il remake di un film cult da quelle parti: "Charlie and the Chocolate Factory", ma di notte segue le fasi di postproduzione di una favola nera animata in stop motion sulle orme dei suoi precedenti capolavori: "Edward mani di forbice (1990)" e soprattutto "The Nightmare Before Christmas (1993)".
Helena Bonham Carter anima con la sua voce la sposa cadavere, legata al distratto Victor quando quest'ultimo infila un anello in quello che crede essere un ramoscello.
Burton come al solito ama ironizzare con temi gotici e mostruosi, infondendovi la sua poesia e il suo talento.
Corpse Bride © WB