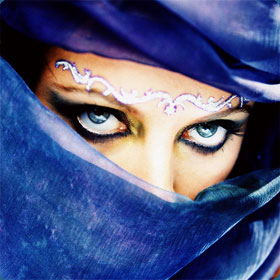 Prima ancora dei titoli di coda di "Brokedown Palace", inizia una bellissima canzone sconosciuta. Grazie al nome della protagonista: Claire Danes, un giretto su
imdb e qualche tentativo a vuoto salta fuori il titolo: "Deliver Me".
Sarah Brightman è la soprano e attrice che la canta in modo straordinario. "Deliver Me" è inclusa nell'album "Eden (1999)". Il repertorio della star inglese, un misto di classico e pop/rock, comprende anche canzoni in francese, italiano, russo e latino. E' famosa per aver cantato con Andrea Bocelli "Con te partirò (Time to say goodbye)", ma anche "Who wants to live forever" dei Queen (dalla colonna sonora di "Highlander").
E' stata sposata con Andrew Lloyd Webber e ha collaborato con Frank Peterson, degli Enigma.
foto di Sarah Brightman