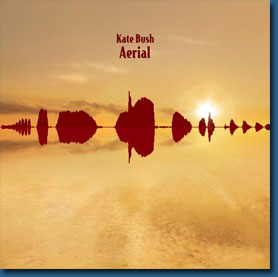 Kate Bush ha completato il suo nuovo album (doppio): "Aerial".
Un silenzio lungo 12 anni si interrompe come il fiato dei fan, che si domandano se sarà rimasta la stessa. La risposta arriva immediata con il singolo, che è anche la prima canzone: "King of the mountain". Le atmosfere rock-pop-celtiche, insieme a molte altre influenze, sono familiari e inconfondibili.
Nel corso dell'album ci si rende conto di come la cantante sia in effetti cambiata, ora che è anche madre, ma c'è una sola Kate Bush e pur cambiando non può che restare se stessa. Stavolta è riuscita a scrivere una canzone su π !
Aerial © Kate Bush & EMI