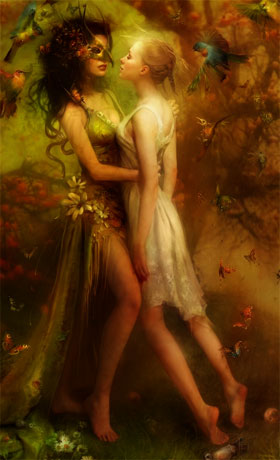 Linda Bergkvist è la vincitrice di uno dei concorsi 2D intitolato "Master and Servant" e indetto da CGSociety.
Un paio di volte all'anno il sito invita gli autori 2D e 3D migliori del mondo a cimentarsi in un tema prescelto e ad obbedire ai vincoli della sfida. Al momento la tenzone si è articolata su:Il viaggio inizia (in corso), Spectacular, Master and Servant, Grand Space Opera, Machineflesh, Alienware,
Non solo c'è la possibilità di visionare centinaia e centinaia di immagini meravigliose, ma c'è anche la traccia delle tappe intermedie in cui il lavoro viene svolto, svelando i retroscena delle opere e i trucchetti dei maestri. E spulciando tra le gallery si scoprono altrettanti siti di assoluto interesse.
Master and Servant challenge entry @ Linda Bergkvist