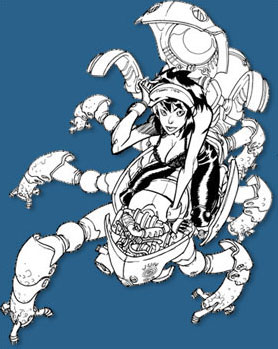 Eric Canete è un artista che ha collaborato a serie come: Aeon Flux, Chronicles of Riddick: Dark Fury, e Justice League Unlimited. Ha lavorato per WildStorm e DC ed ora è impegnato sulla serie animata di "Legion of Superheroes".
Il blog è pieno di schizzi e omaggi a serie giapponesi cult come "Ghost in the Shell" e "Cowboy Bebop".
Il suo tratto è dinamico come si addice ad un animatore ed anche carico dello spirito dei cartoon.
"Motoko Kusanagi" by Eric Canete
[via
]