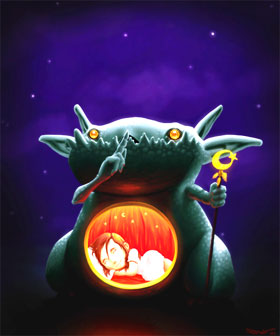 E in tema di gitarelle dalle parti di Deviantart, come non stuprirsi di fronte alla gallery di Splif e questo meraviglioso "elementale del sonno"?
"The Sleep Elemental is a nice monster. He's the one living under your bed, whom you were afraid of, once you were a child. He protected, and still protects you every night from those bad dreams and real monsters. Next night, put some candy under your bed for him, he loves them."
Per non parlare di questa stupenda piccola strega senza la patente che aspetta lo "scopabus".
Sleep Elemental by Splif[via
]