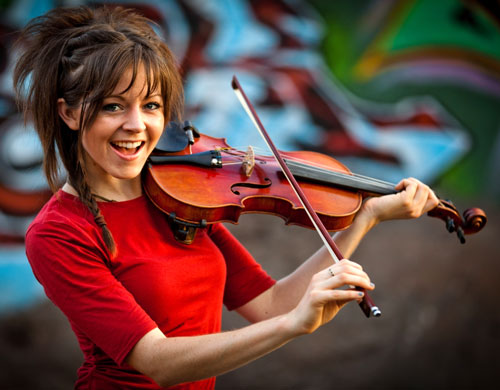 Violinista, performer, coreografa, cosplayer, cantante. Lindsey Stirling lascia semplicemente senza fiato. Non c'è mai stata un'artista come lei.
Il suo medley delle musiche della colonna sonora de "Il Signore degli Anelli" (proposto qui di seguito) ha immediatamente catturato l'attenzione di Howard Shore, il compositore originale.
Lindsey è in grado di ballare MENTRE suona il violino. I suoi video brillano di energia. E i concerti del tour europeo sono già sold out.
Prepare to be amazed.
wikipedia
Lindsey Stirling - l'album su itunes
il canale youtube
google images
Zelda violin duet
Elements - Dubstep Violin Original
Lord of the Rings medley
Zelda
Game of Thrones
Party Rock Anthem
We found Love
River Flows In You
Transcendence
Epic Violin Dance Performance
Celtic Carol
Skyrim
Just Dance 4
Crystallize
Shadows
Moon Trance
Il documentario non ufficiale