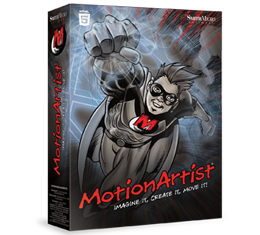 Smith Micro, proprietaria di Poser, Manga Studio e l'interessante Anime Studio, ha prodotto un programma dedicato a movimentare anche i fumetti e mettere in grado gli artisti di pubblicarli on html5 sul web: motion artist.
Non è detto che debbano per forza essere fumetti, possono anche essere presentazioni o slideshow animati e possono poi essere condivisi su facebook, youtube ecc.
I fumetti vengono importati dentro motion artist, dove poi possono prendere vita e diventare anche interattivi.
MotionArtist Overview
MotionArtist - animating objects, panels, and the camera
MotionArtist - Using "Motion Assist"
MotionArtist - Working with Panels