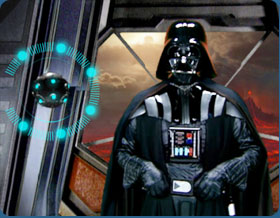 The Sith Sense è la versione "alla Star Wars" del gioco che tenta di indovinare quello che avete pensato ponendovi 20 domande.
A porvi gli interrogativi troverete Darth Vader (o Fener per gli amanti della versione italiana) in persona. Con tanto di tono minaccioso e respiro inquietante.Oltretutto spesso se ne esce con delle frasi come "Non raccontarmi balle ! (Dont' lie to me)", che hanno davvero l'effetto di costringere il giocatore a concentrarsi maggiormente.
Il tutto con il sottofondo marziale della marcia inperiale di Guerre Stellari.
© 2005 Burger King (vabbè, ma ne valeva la pena)
P.S. Sarà la Forza ma alla fine ci prende davvero !