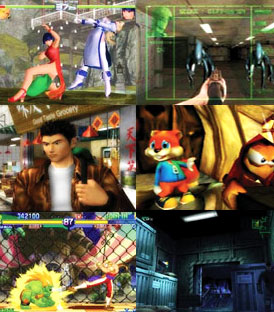 "Games that pushed the limits" è un interessante articolo in tre parti che fa un elenco partendo da un punto di vista originale. Giochi che hanno spinto l'hardware sul quale giravano al limite e che magari superavano anche limiti di game design.
Pietre miliari, killer application o anche soltanto chicche ben nascoste in misteriosi fondali della memoria. Racketboy non indugia sul silicio griffato Sony. Non si sofferma solo sulle console prodotte a milioni. Nel suo articolo guarda anche, e giustamente, ai piccoli gioielli che hanno goduto solo occasionalmente della luce della ribalta grazie a qualche gioco ispirato, senza però costituire la massa critica per determinare una vera esplosione sul mercato.
Una fantastica riscoperta di titoli godibilissimi ancora oggi, e che anzi testimoniano di periodi in cui il fiato dell'industria non era così corto come oggi, e le sorprese erano numerose.
Dead or Alive, Alien vs Predator, Shen Mue, Conker's Bad Fur Day, Street FIghter 3 Alpha, Metal Gear Solid [via
joystiq]