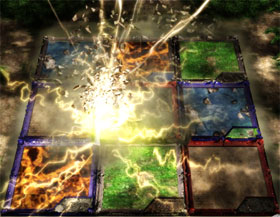 Sony non se la passa benissimo in attesa del lancio di PS3 a novembre. Pare che la console sia troppo costosa, il progetto troppo ambizioso e l'arroganza del reparto marketing non aiuta di certo. Nintendo è improvvisamente diventata una compagnia di simpaticoni dopo avere avuto per anni la nomea di società "draconiana" per le sue rigide politiche di licensing.
Ma Sony ha qualche asso digitale nella manica:Eye of Judgement. E' una nuova tecnologia decisamente innovativa di tipo "augmented reality". I giocatori depositano fisicamente delle carte da gioco su di un tavolo inquadrato da una telecamera e PS3 proietta immagini di mostri che si azzuffano, calcolate il realtime, e che reagiscono anche all'interazione con le mani dei giocatori.
Alla Wizards of the Coast non si faranno sfuggire l'occasione di usare qualcosa del genere per la finale del torneo di Magic the Gathering del 2010.
Eye of Judgement