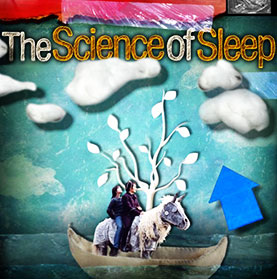 Pixelsurgeon svela il nuovo film del geniale
Michel Gondry, già autore del meraviglioso "Eternal Sunshine of the Spotless Mind": "The Science of Sleep".
Gael García Bernal interpreta un ruolo vagamente autobiografico, che sviluppa il personaggio di Stephane, già visto nel cortometraggio del 1998 "La lettre". Le fantasie del protagonista hanno reso la sua vita una sarabanda di trasognate percezioni, senza però essere incoerenti.
Il film trae la sua forza dalla ricerca di esprimere il proprio mondo interiore a chi si ama, ma soprattutto dalla sovrumana capacità di Michel Gondry di narrare l'impossibile sullo schermo.
The Science Of Sleep © Michel Gondry, Warner[via
]