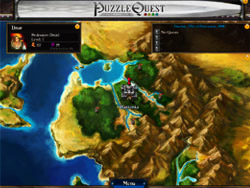 L'RPG va su tutto. Dopo contaminazioni con l'action e addirittura il driving arriva:Puzzle Quest challenge of the warlords è una sorta di ingegnoso Bejeweled dove il combattimento si svolge proprio spostando le gemme per accumulare mana e scatenare incantesimi e poteri sull'avversario.
Un meccanismo ben studiato che permette di avere sempre diverse opzioni ed un interessante sviluppo lde personaggio lungo ben 50 livelli (ma solo 7 nella demo per pc).
Il gioco sta per uscire anche per DS e PSP.
Puzzle Quest[via Andrew Wooldridge]