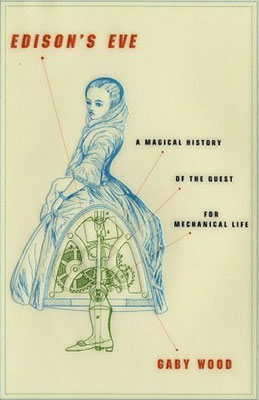 Alcune frasi di presentazione per il libro di Gaby Wood: Edison's Eve: A Magical History of the Quest for Mechanical Life:

La Wood affronta questo tema appassionante con energia, chiarezza e in modo coinvolgente ... ci costringe a ripensare la relazione che intercorre tra noi, gli dei e le macchine.
La strana idea che l\'intelligenza artificiale replica con successo l\'inganno ha una lunga storia. Gaby Wood risita questa storia in modo nuovo, magico, e offre seducenti prospettive dei momenti topici ... un saggio esauriente delle fantasie automatiche della nostra cultura.
Cattura l\'eccitazione del gioco, semplice e profondo, tra ciò che è umano e ciò che è inanimato ... la Wood suggerisce più di quello che c\'è sulla pagina e ci considera in grado di trovarlo con le nostre forze ... Intrigante ed elegante.