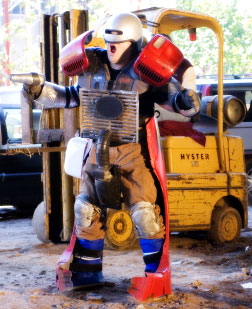 Un uomo si magnetizza improvvisamente e cancella tutte le cassette del videonoleggio di un suo amico. Per non rovinare il divertimento della più assidua cliente del negozio, un'anziana signora con vaghi segni di demenza, i due decidono di rigirare i film a modo loro, e tra questi: "Ghostbusters", "Ritorno al Futuro" e "Il Re Leone".
Una trama del genere per un film farebbe già ridere di suo, fino a che non si considera che questa commedia verrà girata da Michel Gondry (Eternal Sunshine of the Spotless Mind, The Science of Sleep). Una storia così ha un potenziale strepitoso per le gag visive del cineasta francese. La pellicola in questione, "Be Kind Rewind", è la quinta di oltre 50 ragioni per le quali il 2008 sarà un grande anno per il cinema.
La pratica di rifare con pochissimi mezzi trailer e film ha un nome: "sweding".
Robocop by Michel Gondry
Star Wars: The Force Awakens sweded
Avengers: Age of Ultron trailer - sweded