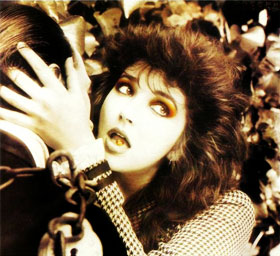 The Dreaming e' forse l'album piu' complesso di Kate Bush, il primo prodotto interamente da lei e definito "una follia".
Il tessuto musicale e' vario e realizzato quasi interamente tramite il sintetizzatore Fairlight CMI. Le atmosfere vanno dal sincopato film noir di "There Goes A Tenner" al rock della casa infestata di Shining di "Get Out Of My House", dagli aborigeni australiani che danno il nome all'album alla morte del mago Houdini, da "Sat in Your Lap" che descrive la lotta fra l'insicurezza e la sicurezza in se stessi a "Leave it Open" sull'avere una mente aperta e far esprimere il proprio lato oscuro.
A poco piu' di vent'anni Kate Bush, grazie ad un pizzico di incoscienza e ad un enorme talento riuscita a sconvolgere il panorama musicale con liriche originali ed una musica sofisticata con echi da tutto il mondo. Una sconvolgente energia creatrice capace di ipnotizzare chi ascolta e di trasportarlo in luoghi inaccessibili.