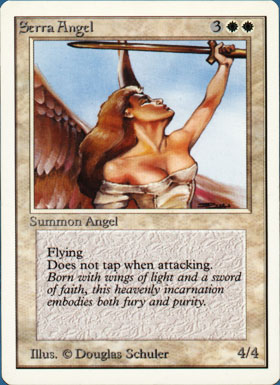 Richard Madeley sta realizzando un remake per computer di Magic, il gioco di carte del secolo inventato da Richard Garfield, che gli ha procurato un colloquio con gli stessi Wizards (ma che poi gli hanno pure fatto cancellare il progetto da sourceforge). Magic ha avuto un successo mondiale irripetibile, superiore a classici sempiterni come il monopoli o scarabeo. E il motivo di questo successo e' senz'altro nella sua straordinaria varieta', che evoca in maniera soddisfacente un combattimento fantastico fra due maghi.
Il programma nasce semplicemente per permettere di provare a giocare a Magic contro una IA con un insieme di carte a disposizione significativo. Ogni carta che contiene un nuovo meccanismo viene implementata ad hoc e Richard spiega i dettagli sul blog.
Ma anche questa volta... italians do it better.
Serra Angel by Douglas Shuler for Wizards of the Coast
UPDATE: Molto interessante anche Manalink, una estensione con le nuove carte del famoso Shandalar, il gioco dedicato a MtG da Microprose che rimane una delle migliori trasposizioni su PC.
Molti altri progetti interessanti, dotati anche di AI per giocare contro il computer:
Wagic
Mox
MTG Forge
La lista completa è qui.