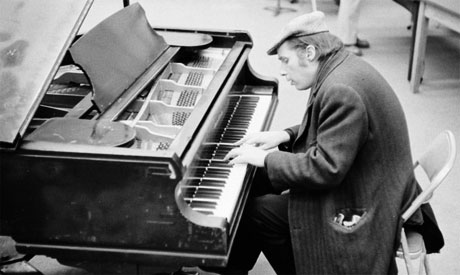 Glenn Gould e' stato uno dei piu' riconosciuti e celebrati pianisti del XX secolo. Un ottimo punto di ingresso nel favoloso mondo della classica. Impossibile trovarlo noioso, grazie alle sue curiose eccentricita'. Impossibile trovarlo incomprensibile, vista la qualita' assoluta delle sue esecuzioni.
Gould fu un appassionato e superbo esecutore di J.S. Bach e di Mozart e la sua esecuzione del concerto Imperatore di Beethoven e' in grado di commuovere una pietra.
link:
The Glenn Gould Foundation.


Glenn Gould - The Alchemist, un lungo documentario fitto di esecuzioni.
32 piccoli film su Glenn Gould.
Glenn Gould durante una prova, 1974


Glenn Gould - Off the Record

Glenn Gould's U.S. Television Debut: Bernstein Conducting Bach's Keyboard Concerto No. 1 in D minor

Glenn Gould plays Bach - The Goldberg Variations, BMV 998 (Zenph re-performance)

Glenn Gould - How Mozart Became a Bad Composer ("The Return of the Wizard")