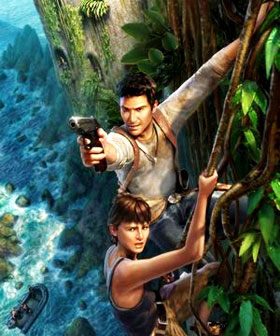 Tornano su PS3 le avventure di Nathan Drake, pro-nipote del leggendario capitano incubo della marina spagnola. Il gameplay prende spunto da Prince of Persia per le vertiginose scalate, Tomb Raider per l'esplorazione, gli enigmi e le piattaforme e Gears of War per i furiosi combattimenti dove è essenziale trovare copertura dietro a qualche colonna.
Mettere insieme il meglio del meglio come game design per questa generazione crea un gioco che è tutt'altro che una minestra riscaldata, come si potrebbe pensare. Oltre a divertirsi come matti a scovare antichi manufatti in ogni angolo della jungla ci si troverà in mezzo a scazzottate cinematografiche, momenti degni di "all'inseguimento della pietra verde" e divertenti scambi di battute tra i protagonisti, veri avventurieri pronti a giocarsi la scorza ad ogni passo.
Il tutto condito con una grafica incredibile, che fa uso di colori accessi proprio per distaccarsi dallo stanco stile grafico delle avventure di Miss Croft. E i fan di "Firefly" scopriranno che il protagonista è decisamente ispirato alla figura del capitano della serie tv interpretato da Nathan Fillon.
Un paio di post mortem (con qualche spoiler) sul capolavoro di Naughty Dog:
L'intervista sullo sviluppo
Le dinamiche sessuali tra i protagonisti