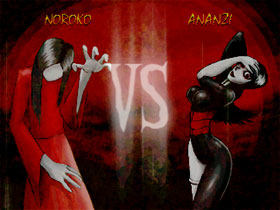 Troppo zucchero nell'aria ? Fortunatamente il sangue ha un sapore metallico e salato.
Questo non è il rosso del Natale. The Black Heart, il beat'em up creato da Andres Borghi in sette anni di duro lavoro e usando il mugen engine, mostra i combattimenti sovrannaturali tra 6 creature da incubo tra le quali spicca Noroko, lo spirito nella bambola giapponese dotato dei tipici poteri che fanno saltare sulla sedia in film come Ringu o Ju-On. Così quando le mezzelune riescono si prende quasi paura per gli effetti delle mosse.
The Black Heart by Andres Borghi
"tasukete... tasukete..."