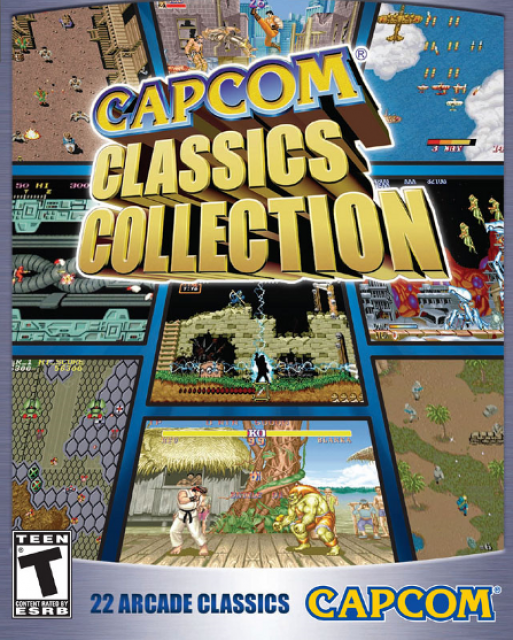 La Capcom Classic Collection contiene: 1942, 1943, 1943 Kai, Bionic Commando, Commando, Exed Exes, Final Fight, Forgotten Worlds, Ghosts'n Goblins, Ghouls'n Ghosts, Gun.Smoke, Legendary Wings, Mercs, Pirate Ship Higemaru, Section Z, SonSon, Street Fighter II: The World Warrior, Street Fighter II: Champion Edition, Street Fighter II Turbo: Hyper Fighting, Super Ghouls'n Ghosts, Trojan, Vulgus.
wikipedia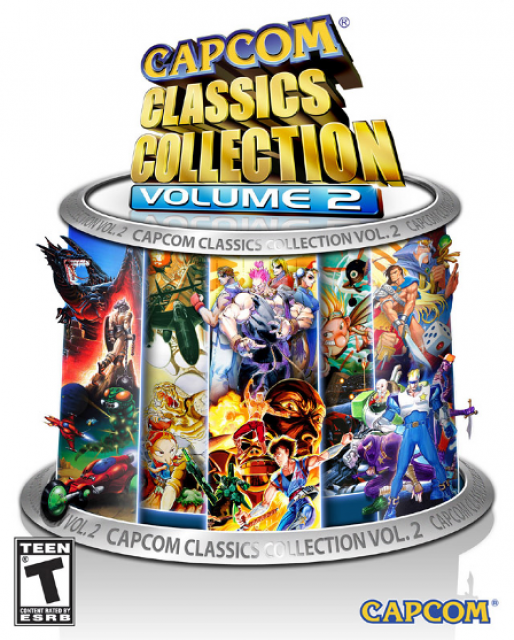 La Capcom Classic Collection Vol 2 contiene: 1941: Counter Attack, Avengers, Black Tiger, Block Block, Captain Commando, Eco Fighters, The King of Dragons, Knights of the Round, Last Duel, Magic Sword, Mega Twins, Quiz & Dragons, Side Arms Hyper Dyne, Street Fighter, Strider, Super Street Fighter II Turbo, The Speed Rumbler, Three Wonders(Midnight Wanderers: Quest for the Chariot, Chariot: Adventure through the Sky, Don't Pull), Tiger Road, Varth: Operation Thunderstorm.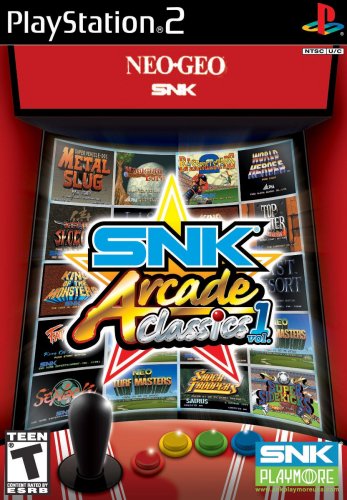 La SNK Arcade Classics Vol 1 contiene Art of Fighting, Baseball Stars 2, Burning Fight, Fatal Fury: King of Fighters, King of the Monsters, Last Resort, Magician Lord, Metal Slug, Neo Turf Masters, Samurai Shodown, Sengoku, Shock Troopers, Super Sidekicks 3: The Next Glory, The King of Fighters '94, Top Hunter: Roddy & Cathy, World Heroes.
wikipedia




Taito Legends contiene: Space Invaders, Space Invaders Part II, Phoenix, Colony 7, The Electric Yo-Yo, Jungle Hunt, Zoo Keeper, Elevator Action, Great Swordsman, Return of the Invaders, Bubble Bobble, Gladiator, Tokio, Exzisus, Operation Wolf, Plump Pop, Rastan, Rainbow Islands, Super Qix, Operation Thunderbolt, The New Zealand Story, Battle Shark, Continental Circus, Plotting, Volfied, The Ninja Kids, Space Gun, ThunderFox, Tube It.
wikipedia




Taito Legends 2 contiene: Alpine Ski, Arabian Magic, Bonze Adventure, Cameltry, Chack'n Pop, Cleopatra Fortune, Crazy Balloon, Darius Gaiden, Don Doko Don, Dungeon Magic, Elevator Action Returns, The Fairyland Story, Football Champ, Front Line, Gekirindan, Grid Seeker: Project Storm Hammer, Growl, Gun Frontier, Insector X, KiKi KaiKai, Kuri Kinton, The Legend of Kage, Liquid Kids, Lunar Rescue, Metal Black, Nastar Warrior, Puchi Carat, Puzzle Bobble 2, Qix, Raimais, Space Invaders '95, Space Invaders DX, Super Space Invaders '91, Violence Fight, Wild Western, Bubble Symphony, Cadash, Pop'n Pop, RayForce.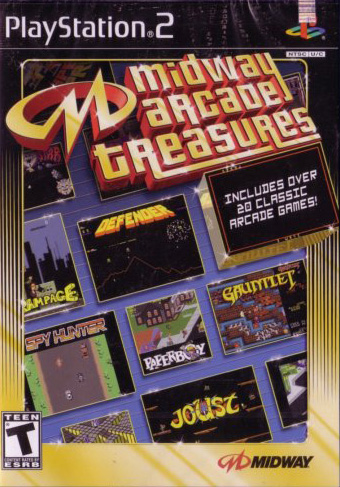 Midway Arcade Treasures contiene: 720°, Blaster, Bubbles, Defender, Defender II, Gauntlet, Joust, Joust 2, Klax, Marble Madness, Paperboy, Rampage, Rampart, RoadBlasters, Robotron: 2084, Root Beer Tapper, Satan's Hollow, Sinistar, Smash TV, SPLAT!, Spy Hunter, Super Sprint, Toobin', Vindicators.
wikipedia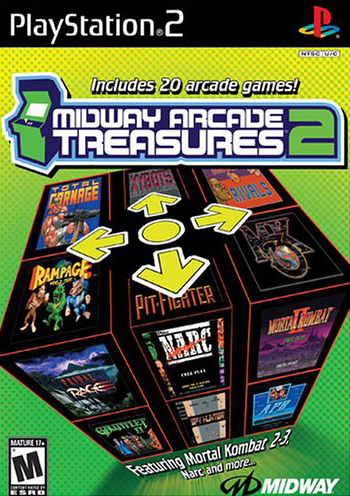 Midway Arcade Treasures 2 contiene: A.P.B., Arch Rivals, Championship Sprint, Cyberball 2072, Gauntlet II, Hard Drivin', Kozmik Krooz'r, Mortal Kombat II, Mortal Kombat 3, NARC, Pit-Fighter, Primal Rage, Rampage World Tour, Spy Hunter II, Timber, Total Carnage, Wacko, Wizard of Wor, Xenophobe, Xybots.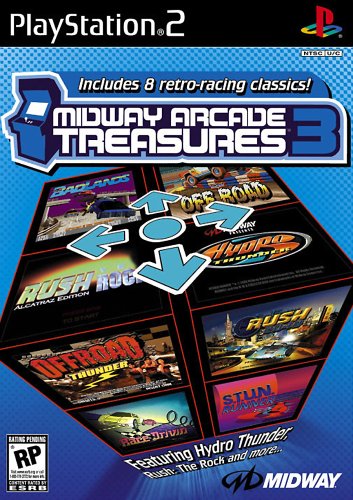 Midway Arcade Treasures 3 contiene: Badlands, Offroad Thunder, Race Drivin', San Francisco Rush the Rock: Alcatraz Edition, S.T.U.N. Runner, Super Off Road (including Super Off Road Track Pack), Hydro Thunder, San Francisco Rush 2049.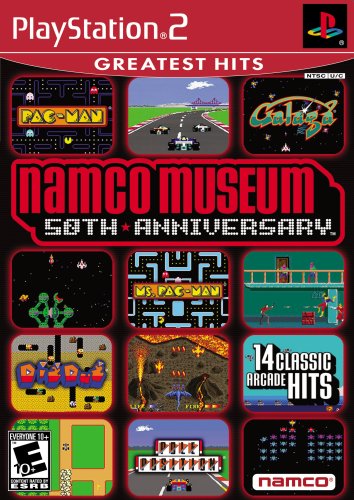 Namco Museum: 50th Anniversary contiene: Pac-Man, Ms. Pac-Man, Galaga, Galaxian, Dig Dug, Pole Position, Pole Position II, Rolling Thunder, Rally-X, Bosconian, Dragon Spirit, Sky Kid, Xevious, Mappy, Pac-Mania (locked), Galaga '88.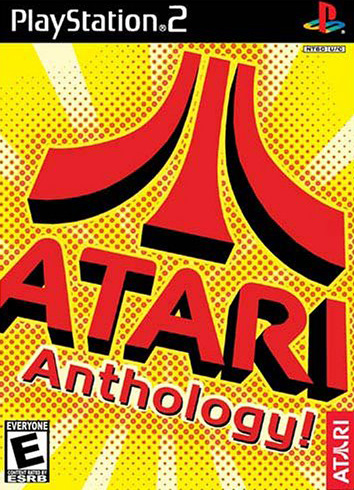 Atari Anthology contiene: Adventure: Adventure, Haunted House, Swordquest Earthworld, Swordquest Fireworld, Swordquest Waterworld.
Action: Air-Sea Battle, Canyon Bomber, Circus Atari, Combat, Demons To Diamonds, Desert Falcon, Dodge 'Em, Flag Capture, Human Cannonball, Off The Wall, Outlaw, Radar Lock, Sky Diver, Submarine Commander.
Arcade: Asteroids, Battlezone, Breakout, Centipede, Crystal Castles, Gravitar, Millipede, Missile Command, Super Breakout, Video Pinball, Warlords.
Arcade (original):
Asteroids, Asteroids Deluxe, Battlezone, Black Widow, Centipede, Crystal Castles, Gravitar, Liberator, Lunar Lander, Major Havoc, Millipede, Missile Command, Pong, Red Baron, Space Duel, Super Breakout, Tempest / Tubes (pirate version), Warlords.
Concentration: 3-D Tic-Tac-Toe, Atari Video Cube, Backgammon, Fun With Numbers, Hangman, Math Gran Prix, Maze Craze, Surround, Video Checkers, Video Chess.
Sport: Bowling, Double Dunk, Football, Golf, Homerun, Minature Golf, Realsports Baseball, Realsports Football, Realsports Tennis, Realsports Volleyball, Super Baseball, Super Football, Video Olympics.
Raging: Night Driver, Slot Racers, Sprint Master, Steeplechase, Street Racer
Space: Quadrun, Space War, Star Raiders, Star Ship, Stellar Track, Yar's Revenge
Gambling: Blackjack, Casino, Slot Machine.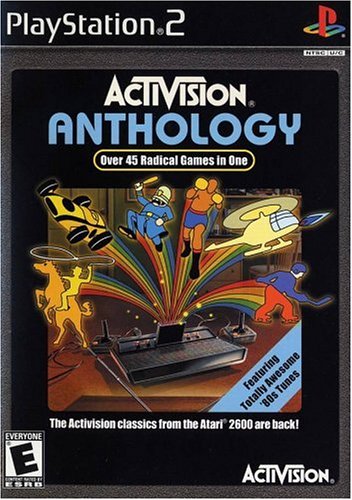 Activision Anthology contiene: Barnstorming, Beamrider, Boxing, Bridge, Checkers, Chopper Command, Commando, Cosmic Commuter, Crackpots, Decathlon, Dolphin, Dragster, Enduro, Fishing Derby, Freeway, Frostbite, Grand Prix, H.E.R.O., Ice Hockey, Kabobber, Kaboom!, Keystone Kapers, Laser Blast, Megamania, Oink!, Pitfall!, Pitfall II: Lost Caverns, Plaque Attack, Pressure Cooker, Private Eye, River Raid, River Raid II, Robot Tank, Seaquest, Skiing, Sky Jinks, Space Shuttle, Spider Fighter, Stampede, Starmaster, Tennis, Thwocker, Atlantis, Demon Attack, Moonsweeper, No Escape!, Baseball, Title Match Pro Wrestling, Tomcat F14.