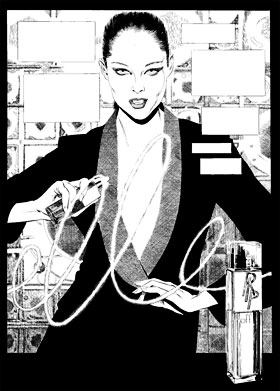 Dave Sim è un personaggio molto singolare. Non molti autori sono così celebrati e controversi.
Dopo aver dedicato 26 anni della sua vita per completare la saga dei 300 episodi di Cerebus Sim ha posato la matita e ha cominciato ad architettare il suo prossimo piano per conquistare il mondo: Glamourpuss. Un fumetto che è un omaggio alla comic art degli anni '50, soprattutto quella di Al Williamson, a base di forti chiaroscuri e inchiostrazioni istintive. E una parodia delle riviste di moda e della filosofia di "Sex and the City" ed infine è una surreale storia supereroistica. Certo non la scelta più scontata per uno che "se cerchi misogino sul vocabolario trovi la sua foto".
Dall'analisi dell'equilibrio dei tre ingredienti che compongono la serie bimestrale si traggono senz'altro elementi per capire chi sia davvero Dave Sim, posto che la cosa interessi a qualcuno. E ci sono anche il suo blog e la pagina su DA.