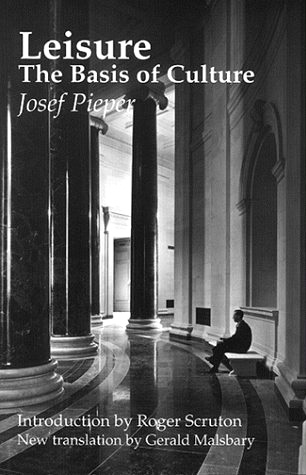 Maria Popova di Brain Pickings ci presenta un libro essenziale: Leisure, the Basis of Culture, del semisconosciuto filosofo tedesco Josef Pieper (1904, 1997).
"Alan Watts si dichiarava già parte della "società della delusione cronica" nel 1970, 50 anni fa. Da allora le cose non sono migliorate. Con il feticismo della produttività abbiamo ceduto alla nozione tirannica di "equilibrio vita / lavoro" e siamo arrivati a vedere la nozione stessa di "tempo libero" non come essenziale per lo spirito umano ma come lusso autoindulgente riservato all'ozio privilegiato o deplorevole riservato ai pigri . Eppure le conquiste umane più significative tra il tempo di Aristotele e il nostro - la nostra più grande arte, le idee filosofiche più durature, la scintilla per ogni progresso tecnologico - hanno avuto origine nel tempo libero, in momenti di contemplazione senza assilli, di presenza assoluta con l'universo dentro di noi. Mente e attenzione assoluta alla vita senza, che si trattasse di Galileo che inventa il cronometraggio moderno dopo aver visto un pendolo oscillare in una cattedrale o di Oliver Sacks che chiarifica gli incredibili effetti della musica sulla mente durante le escursioni in un fiordo norvegese."
Nel 1948, solo un anno dopo che la parola "maniaco del lavoro" (workaholic) era stata coniata in Canada e un anno prima che un consulente di carriere americano emettesse il primo appello controculturale concentrato per ripensare il lavoro, il filosofo tedesco scrisse "Leisure, the Basis of Culture" - un magnifico manifesto per reclamare la dignità umana in una cultura del maniaco compulsivo del lavoro, oggi ancora più significativo, in un'epoca in cui abbiamo mercificato la nostra vitalità al punto da scambiare il guadagnarsi da vivere per avere una vita."