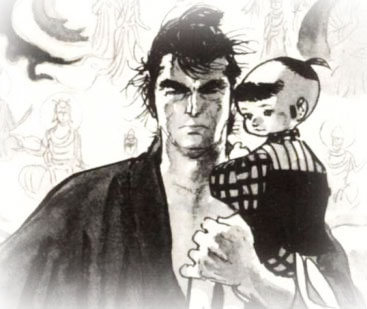 Samurai (子連れ狼, "Lone Wolf and Cub") è una vera e propria istituzione giapponese.
Il manga originale è uno dei più celebrati in assoluto per la dimensione epica dei personaggi, la fedele ricostruzione storica, lo stile classico e potente e il melanconico ricorrere di tematiche tradizionali del Bushido, il codice del samurai. E' anche uno dei più influenti, e tra i migliori lavori che gli hanno reso omaggio ci sono Ronin e Sin City di Frank Miller.
La storia narra di Ittō Ogami, formidabile guerriero in fuga insieme al figlioletto Daigorō, ed è scritta da Kazuo Koike, alla cui scuola di manga si sono diplomati tra gli altri Rumiko Takahashi (Lamu, Ranma 1/2, Inuyasha) e Tetsuo Hara (Ken il Guerriero).
Lone Wolf and Cub è nato come fumetto nel 1970 ma è immediatamente diventato una serie di ben 7 film, un serial televisivo trasmesso anche in Italia, poi una miniserie a metà degli anni '80 ed una recente nel 2004.