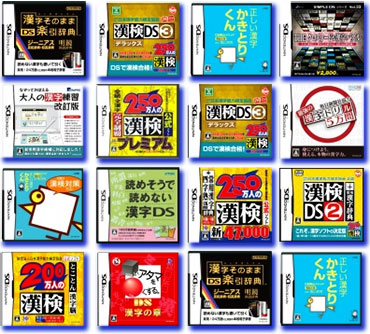 Nintendo ha progettato il suo prodigioso DS perchè potesse essere usato anche per scrivere sullo schermo. Grazie all'uso del pennino la console handheld più venduta della storia (oltre 120 milioni di esemplari) si è rivelata un incredibile aiuto ad imparare il giapponese scritto, ovvero proprio la parte più difficile di questa meravigliosa lingua.
Ecco una lista dei programmi che, grazie al region free, girano tranquillamente sui DS venduti in tutto il mondo:
"Yomesou de Yomenai Kanji DS"
"Kanji Sonomama Rakubiki Jiten"
"KanKen DS 2 + Jouyou Kanji Jiten"
"Nazotte Oboeru Otona no Kanji Renshuu Kaiteiban"
"Shikakui Atama wo Maruku Suru: DS Kanji no Shou"
"Simple DS Series Vol. 33: The Crossword & Kanji Puzzle"
"250 Banjin no Kanken Premium - Zenkyuu Zen-Kanji Kanzen Seiha"
"Kageyama Method - Dennou Hanpuku: Tadashii Kanji Kaki To Rikun"
"Mainichi Shinbunsha Kyouruoku: Saikyou no kanji Drill 5-Man Mon"
"Zaidan Houjin Nippon Kanji Nouryoku Kentei Kyoukai Kounin"
"Zaidan Houjin Nippon Kanji Nouryoku Kentei Kyoukai Koushiki Soft: 250 Mannin no Kanken"
"Zaidan Houjin Nippon Kanji Nouryoku kentei Kyoukai Koushiki Soft: 200 Mannin no Kanken: Tokoton Kanji Nou"
"Kageyama Method: Tadashii Kanji Kakitori-kun Kondo wa Kanken Taidaku Dayo"
E un utile thread che parla di alcuni di essi.
guarda la recensione di Kanji Sono Mama Rakubiki Jiten.
la recensione di Kanji Sono Mama Rakubiki Jiten - 漢字そのまま楽引辞典