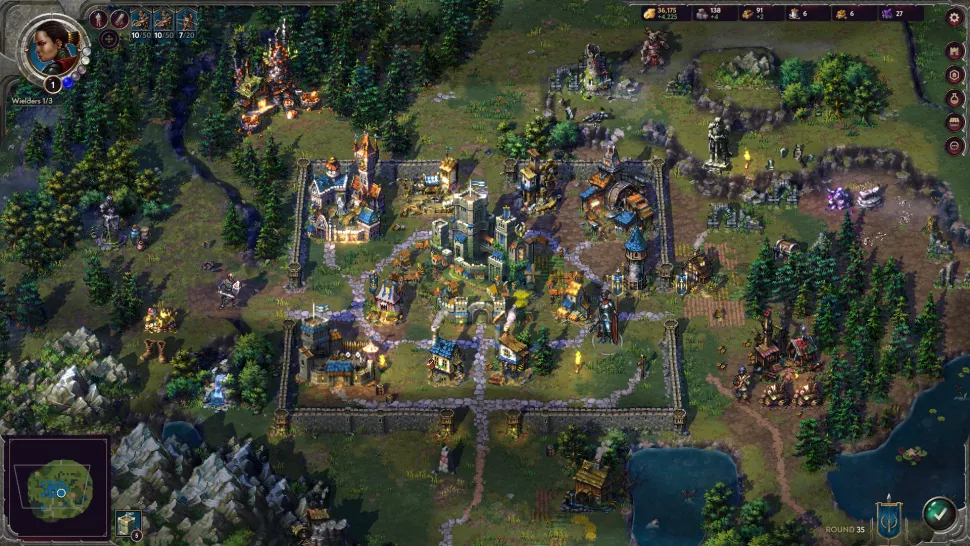 Questo e l'RPG (attualmente in early access) di Lavapotion: Songs Of Conquest.
Mentre l'enorme eroe scelto sale di livello e si aggira per la mappa, i costanti scontro e la costruzione di torri si amalgamano con una frequenza che dà proprio soddisfazione. Come un mix di Age of Empires IV e Fire Emblem, Songs Of Conquest è in grado di soddisfare lo stesso desiderio di gameplay del fenomenale Loop Hero dell'anno scorso. Tuttavia, come tutti i giocatori PC della vecchia scuola potranno testimoniare, nessuno di questi giochi è la vera fonte di ispirazione dell'ultimo nato in casa Lavapotion. Songs of Conquest è invece una sincera lettera d'amore al classico fantasy Heroes of Might and Magic.
Prendendo spunto dalla serie strategica degli anni '90, questa storia di spade e stregoneria vi vede assumere il ruolo di uno dei quattro mitici eroi. Diviso in campagne multiple - o in battaglie multigiocatore, se siete abbastanza coraggiosi - il ciclo principale vi vede vagare per varie mappe piene di pericoli e tesori. A differenza di Age Of Empires, qui tutto è basato sui turni. A ogni turno, avete una quantità limitata di punti di movimento da utilizzare per esplorare i vostri misteriosi dintorni. Andate a sinistra e controllate l'antica reliquia? O osate avanzare verso la marmaglia ringhiosa di picchieri ?