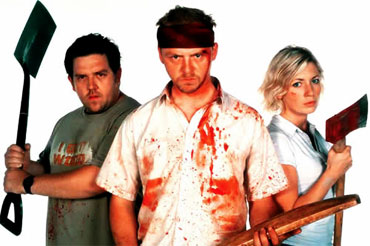 Shaun of the Dead non è affatto il solito film di zombi. Nella pellicola diretta da Edgar Wright nel 2004 (nei migliori 250 su imdb) l'"epidemia" si insinua nei sobborghi di Londra in modo abbastanza subdolo, e il protagonista, in compagnia dell'immancabile amico casinista e della sua ragazza un po' in crisi, dovrà fare i conti con i morti che camminano armato in pratica solo della sua fida mazza da... cricket.
Simon Pegg ("Star Trek", "How to lose friends and alienate people") interpreta il protagonista e scrive con l'amico regista una strepitosa commedia che si fa beffe di luoghi comuni cinematografici USA, di quelli tipici del genere e della società in generale, esattamente in tema con il film originale del 1970, proprio il suo anno di nascita.
Il tutto condito da un perfetto humor inglese. E il bello è che il gruppo di lavoro sforna progetti uno dietro l'altro, un po' alla Monty Python.


Shaun Of The Dead Trailer
Don't Stop Me Now