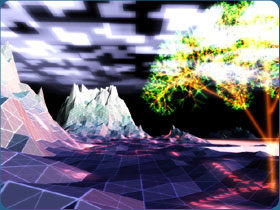 Cosa succede quando quattro appassionati programmatori da camera, fan di Tron, The Sentinel e di retrogaming mettono insieme il loro genio e i loro sforzi prendono in contropiede la stampa di mezzo mondo ?

Darwinia !

The Edge, una delle più importanti riviste di settore del mondo, dedica al regno digitale di Introspection software ben 6 pagine. Ma non è la sola. da Eurogamer a GamersHell è un coro unanime di definizioni mai sentite: "dimenticatevi la fisica in tempo reale, questa è metafisica", "E' tempo per un neologismo: post-genere".

Forse perchè Darwinia parla un linguaggio che le orecchie degli ex-ragazzi degli anni '70, che ora scrivono sui giornali e online, sanno ascoltare, interpretare, ma soprattutto con l'avvento del 3D è stato dimenticato. La definizione più bella la dà forse Videogiochi: "E' così che ne 1986 si immaginavano i giochi del XXI secolo".

I livelli sono stati generati con i frattali perchè non c'era nessun esperto di modellazione 3D a disposizione. Ecco come si trasforma un limite in un punto di forza. Il sonoro è stato (ri)creato applicando le metodologie di 20 anni fa alla tecnologia attuale, e lascia senza fiato.

Capolavoro.