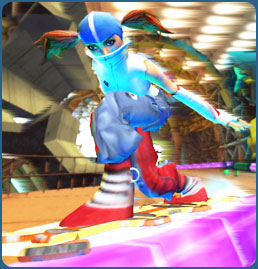 Harmonix è la casa produttrice di alcuni dei videogame più originali che si siano visti ad oggi come Amplitude e Frequency, o la trilogia di Karaoke Revolution.

Qualcuno in Harmonix deve aver colto il reale potenziale della telecamera eyetoy e probabilmente è anche un fan di Marty McFly e dell'hoverboard di "Back to the future part II". Il risultato di questo "incrocio" è la sensazione di volare dentro al teleschermo e controllare uno di questi mezzi fantascientifici che schizzano a folle velocità lungo piste che tolgono il respiro, sia per l'impressione che per lo sforzo richiesto.

Occorre tenere aperte le braccia, farle oscillare e abbassarsi o saltare per scivolare sullo skate. Antigrav è considerato il primo vero gioco per eyetoy, ma soprattutto il primo in grado di "capire" cosa fanno la testa e le braccia del giocatore.

E' una rivoluzione.