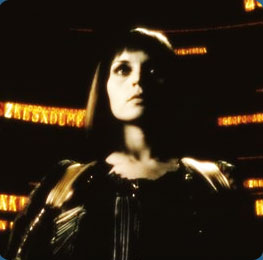 Malgorzata Foremniak è la protagonista assoluta del film di Mamoru Oshii realizzato in Polonia nel 2000: Avalon.
La storia è quella di una ragazza, Ash, che per vivere combatte in un gioco illegale al quale si collega in stile Matrix. L'apparecchiatura di collegamento, nonchè il suo taglio di capelli a caschetto, ricordano decisamente Ghost in the Shell. Il team creativo è in fondo lo stesso.
Prendendo spunto dalla struttura dei giochi di ruolo, ed esplicitamente da D&D, il film snocciola intriganti situazioni con pochi dialoghi essenziali, alcuni eleganti effetti digitali, un ritmo che spinge alla riflessione ed un colore ambrato che immerge i temi futuribili in una atmosfera da primi del '900. Ma la rete di parallelismi e analogie non si ferma qui. Il bassotto che ritorna anche nel sequel di Ghost in the Shell: Innocence richiama il simbolismo metafisico del grande regista Krzysztof Kieslowski, anche lui polacco.
L'esperimento è così riuscito da assurgere allo status di cult movie.
image © avalonthemovie.com