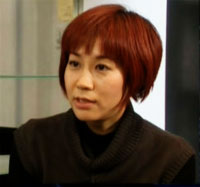 Yoko Kanno è una grande cantante, autrice di canzoni e colonne sonore.
Alcune delle sue perle includono: "Voices" (Macross Plus), "Tank!" (Cowboy Bebop), "Yakusoku wa Iranai" (Escaflowne), "Gravity" (Wolf's Rain), "Inner Universe" (Ghost in the Shell: Stand Alone Complex) and Stand Alone Complex O.S.T.
A proposito di quest'ultima la title track "Inner Universe" è una canzone che cattura perfettamente "lo spirito nel guscio". La base è un frenetico pulsare di servomeccanismi, lampioni che sfrecciano ai lati di un veicolo lanciato in una folle corsa sull'asfalto lucido. Per i cori Yoko ha scelto il russo, che risuona come un latino metallico, e la voce è simile a quella di Amy Lee, in una ipotetica svolta techno-punk.
Interview: Anime soundtracker Yoko Kanno on Cowboy Bebop, Macross Plus, and More
Yoko Kanno Gives Rare But Utterly Fascinating Interview
image: Yoko Kanno