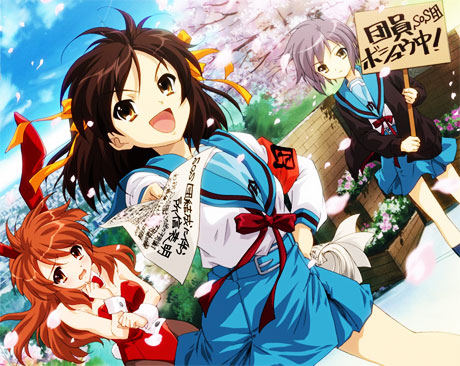 Nel 2006, circa 10 anni dopo Evangelion, è stata trasmessa in Giappone The Melancholy of Haruhi Suzumiya (涼宮ハルヒの憂鬱, Suzumiya Haruhi no Yūutsu), una serie su una liceale in grado di alterare la realtà fino a poter distruggere e ricreare il mondo in cui vive, ma senza essere a conoscenza delle sue capacità. Un pretesto che rende la storia originale e imprevedibile, e che funziona proprio perchè gli autori ci infilano una incredibile serie di stereotipi di ogni genere, sconfinando spesso nella parodia.
Visto che non era abbastanza strana, la serie è anche stata trasmessa fuori ordine, ma i salti avanti e indietro non rendono la storia incomprensibile, piuttosto creano un pregevole crescendo. E' stato fin da subito un grossissimo successo, che ha fatto seguito a quello ottenuto dai libri, manga, CD e videogame.
In questo momento viene trasmessa la seconda serie, e la protagonista è riuscita nella titanica impresa di fermare il tempo sia per i suoi compagni che per gli spettatori, in un loop temporale durato 595 anni (!), ben 2 mesi per chi guarda la tv.
Da vedere: opening new: Super Driver, opening classic, SOS VS NERV
GR Anime Review: The Disappearance of Haruhi Suzumiya
Old-Ass Anime Cast #2: Haruhi Suzumiya