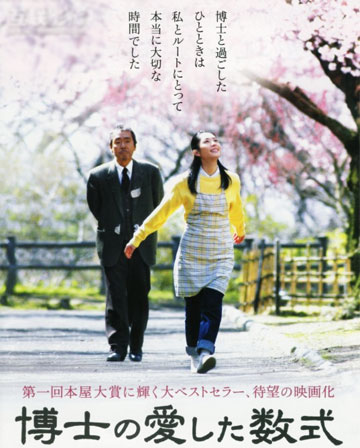 To see a world in a grain of sand
And a heaven in a wild flower
Hold infinity in the palm of your hand
And eternity in an hour

- William Blake

e iπ + 1 = 0

- Eulero
Questo film scritto e diretto da Takashi Koizumi è forse la migliore lezione di matematica cui si possa assistere. Il professore del titolo, in seguito ad un incidente, perde la memoria ogni 80 minuti. La sua nuova donna delle pulizie dovrà imparare a comunicare con lui nel modo migliore. La loro diventerà una relazione nella quale i numeri e alcune delle loro più affascinanti e misteriose proprietà svolgeranno un ruolo fondamentale.
Una elegante metafora di precisione ineguagliabile.
The Professor's Beloved Equation (博士の愛した数式, hakase no ai shita suushiki )