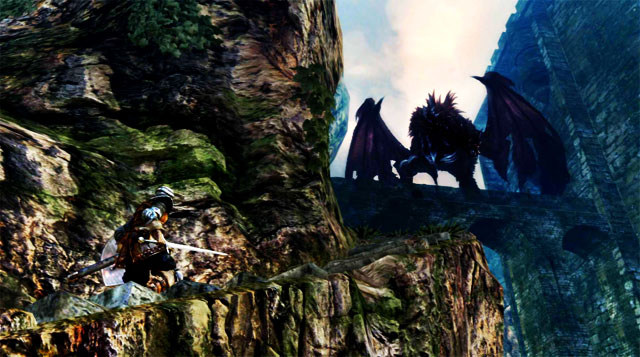 Un po' come il Team Ninja fondato da Itagaki, e autore di uno dei giochi più difficili della storia (Ninja Gaiden), anche From Software è diventata famosa per la difficoltà dei suoi titoli, in particolar modo Demon Souls e il suo seguito Dark Souls.
Hidetaka Miyazaki, il game director, ha voluto un mondo unico, dove si possa andare ovunque. Anche direttamente in bocca ad un famelico drago rosso. Sembra l'opposto di Final Fantasy, dove il sentiero era prestabilito. Questo non è Lorien, ma piuttosto l'oscura Moria, o forse meglio ancora la Midland di Berserk. E l'atmosfera è proprio quella del manga di Miura. Tutti i mostri vogliono la pelle del prescelto, sospeso tra la vita e la morte, e sarà durissima portare a termine l'avventura. Occorrerà strategia nel pianificare gli avanzamenti, e poi tattica e abilità negli scontri. Si muore così spesso che si parte direttamente nei panni di un non-morto, fuggito dall'inferno per qualche trama del destino. La storia non intralcia affatto il gameplay, e le cut scene sono ridotte all'essenziale.
intervista a Hidetaka Miyazaki
altra intervista a Hidetaka Miyazaki
la guida (indispensabile !!!)
soup.io
9 Things We can Learn about Game Design from Dark Souls
Dark Souls exploring the design
reddit
pinterest gallery
Dark Souls web comic
Trailer Ufficiale

Dark Souls Lore

Awesome Builds

Dark Sauce (Dark Souls Parody)

The World Design of Dark Souls | Boss Keys

Why Is Dark Souls 1 A Masterpiece?!