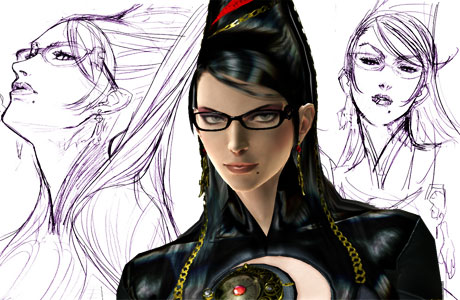 Hideki Kamiya ("il diavolo può anche frignare") non è il tipico giapponese e i suoi giochi ne riflettono la personalità. L'ispirazione per il suo nuovo personaggio la deve aver avuta dal gergo "bullet witch" ed ha creato proprio una strega con ben 4 pistole (due sono dietro ai suoi tacchi). Bayonetta è ipercaratterizzata: porta gli occhiali (!) ed i suoi vestiti sono costituiti dai lunghi capelli corvini (la chioma malefica).
Durante l'azione dal cielo piovono immani strumenti di tortura in testa ai nemici (un sarcastico riferimento alla caccia alle streghe), e le sparatorie a base di "gun-fu" e "capoeira" sembrano i deliri di John Woo. E quando si cominciano a prendere angeli a calci nel sedere sul serio parte, come Hideaki Anno insegna, "Fly me to the Moon". Tutto questo barocco ipercinetico pare proprio avere un senso, e questa eroina fin troppo disinibita è già attesa con una certa ansia dai fan del genere.
Ecco il trailer ufficiale
Il flickr set.
Il designing bayonetta.
Il blog di Hideki Kamiya.
Bayonetta 3D model.
Bayonetta dev commentary con Hideki Kamiya.
Bayonetta on TV tropes
Bayonetta Wiki
image source: platinumgames (detail)
UPDATE: ma come si muove la meganekko più sexy e pericolosa mai creata ?
review #1.
bayonetta TV tropes (imperdibile per la mole di riferimenti).
an essay.
Bayonetta - Under Extreme Conditions
Fly Me To The Moon And Let Me Play Among The Bayonetta Soundtrack.
Come è stata creata ? Qual'è la sua storia ? (mild spoilers):

Beh... è una superstar !

Angel Land !!

Bayonetta combo mad

La canzone originale dedicata a Bayonetta
"Reaping Beauty"

TITLE