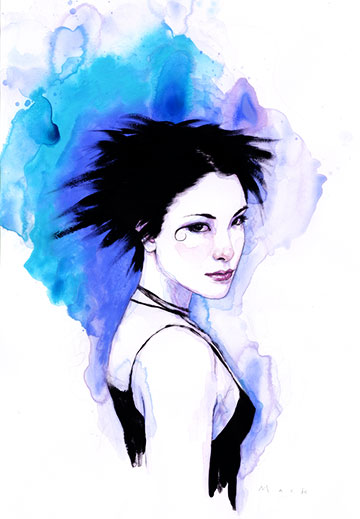 "Penso di essermene innamorato, almeno un po'. Non è sciocco ? Ma era come se la conoscessi. Come se fosse la mia più vecchia e cara amica. Quel tipo di persona alla quale puoi confessare qualsiasi cosa, per quanto terribile. Sai che ti vorrà ancora bene, perchè ti conosce. Avrei voluto andarmene con lei. Avrei voluto che mi notasse. Si era fermata. Sotto la luna, era immobile. Ci stava guardando. Mi stava guardando. Sembrava sul punto di dirmi qualcosa; non lo so. Forse nemmeno sapeva che io fossi lì. Ma la amerò sempre. Per tutta la vita."

--Brant Tucker on Death of the Endless in World's End by Neil Gaiman
Matthew Cheney ha deciso di lanciarsi in una serie di riflessioni su Sandman, un capitolo alla settimana. Si è da poco concluso il primo arco narrativo, "Preludi e Notturni", che si chiude con l'introduzione di uno dei migliori personaggi mai concepiti in un fumetto (e nella letteratura in generale): Death. Improvvisamente un fumetto fino a quel momento molto interessante esplode e diventa un cult assoluto.
Gli articoli sono segnalati dallo stesso Gaiman.
Sandman Meditations: Preludes and Nocturnes Cheat Sheet
Racconti nella Sabbia
A Death gallery on pinterest
Cinamon Hadley—The Inspiration for Neil Gaiman's Death
"Cosa è stata l'etichetta Vertigo" di Andrea Fiamma su Fumettologica
image by David Mack