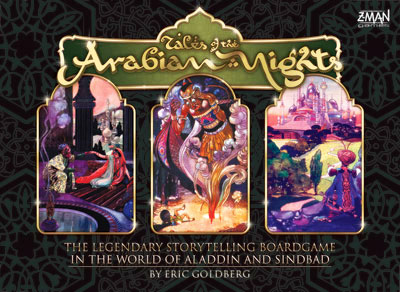 Tales of the Arabian Nights è un gioco da tavolo che ha come tema le mille e una notte. E' stato progettato da Eric Goldberg e pubblicato per la prima volta lel 1985, ora è arrivato alla terza edizione, arricchita con ulteriori materiali.
Ma questo boardgame non usa la più famosa raccolta di fiabe solo come tema. E' stato creato intorno alla narrazione di storie. Sindbad, Aladino, Sherazade e gli altri leggendari protagonisti vagano per il mondo, che va da Roma a Samarcanda, e vivono incontri con Sultani e briganti, geni della lampada e creature maestose. Possono usare le loro abilità per cercare di sopravvivere, e sfruttare le avversità a loro vantaggio.
E' stato definito quasi un RPG senza master, e la parte del leone la fa un librone da 300 pagine colmo di eventi, che si concatenano l'uno con l'altro, in una meccanica molto originale. Sul sito ufficiale ci sono anche alcune varianti tra le quali una versione single player e una di vera e propria narrazione.
boardgamegeek
i video di Tales of the Arabian Nights
reddit thread
balena ludens