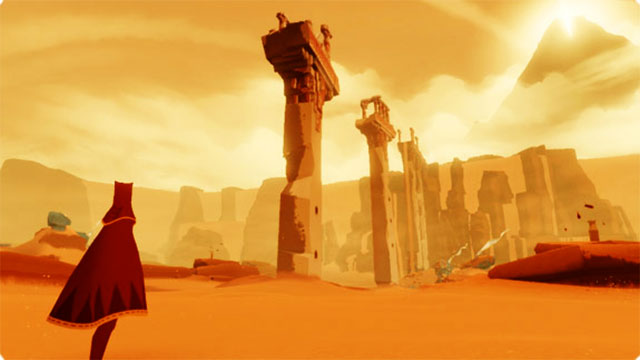 Journey è il nuovo gioco degli autori di flower, flow e cloud. E' senz'altro uno dei migliori videogiochi mai creati.
Questa volta si tratta di una esperienza che ha tratto ispirazione dall'immaginario del grande Fumito Ueda (Ico, Shadow of the Colossus). Un viaggio in un mondo di sabbia alla scoperta dei resti di un'antica civiltà dove risulta impossibile comunicare con altri giocatori via voce o chat, e quindi occorrerà ingegnarsi per riuscire a collaborare in modo costruttivo. Evitare che filtrino le inevitabili bimbominkiate sullo schermo preserva l'atmosfera del gioco in modo eccezionale. E questa è solo una delle geniali caratteristiche di "Journey".
Alcuni video.
Un articolo su Robin Hunicke di ThatGameCompany.
intervista.
intervista.
la comunicazione non verbale.
8-bit version.
L'art director.
Emotional design
★ Ten years later, Jenova Chen reflects on Journey
music by Austin Wintory
20 minuti con "Journey"
The Art of Journey
Makers & Gamers: Journey