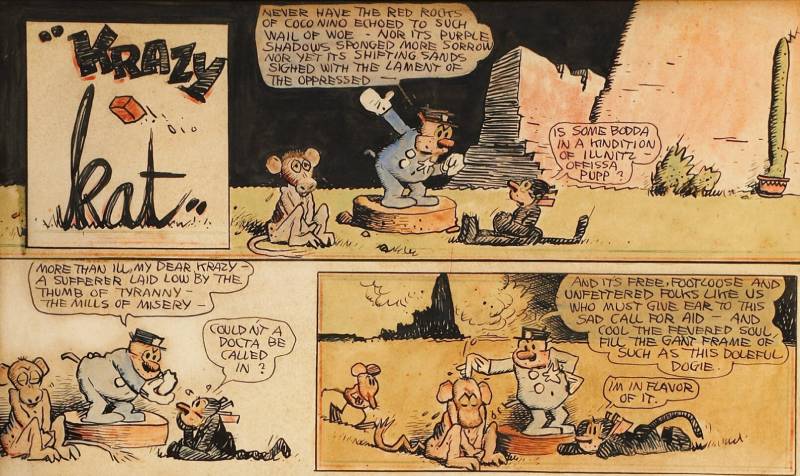 Krazy Kat è un fumetto scritto e disegnato da George Herriman dal 1913 al 1944.
E. E. Cummings era uno dei più grandi fan di Kat. Nel 1922 scrisse da Parigi per chiedere ritagli di giornale agli amici americani. ("Grazie inoltre per una Kat di indescrivibile bellezza!", scrisse a un amico che lo accontentava). Nella sua introduzione del 1946 alla prima edizione delle strisce raccolte, Cummings scrisse che il mattoncino tirato in testa dal topo Ignatz scatenava la gioia all'interno del "gioco ultraprogressivo" del mondo reale, con le sue regole prestabilite, di cui violava la più sacra: "NON GIOCARE". (Winnicott definisce il gioco come "l'evidenza continua della creatività, che significa vivacità"). Herriman dà piacere senza la gratificazione istantanea di una battuta, mettendo in crisi l'attesa traiettoria della gag. Il mattone che sfreccia sulla pagina non pone fine alla battuta; i giochi finiscono, ma il gioco è infinito. Non c'è un vincitore e, se c'è, è Krazy che, per ragioni private, interpreta il mattone come amore."
"Bill Watterson, il creatore di Calvin e Hobbes e megafan di Herriman, ha scritto: "Le montagne sono a strisce. Le mesa sono maculate... L'orizzonte è un basso muro che i personaggi scavalcano... La luna è uno spicchio di melone, sospeso a testa in giù". Herriman si destreggiava con tutti gli elementi che la forma consentiva: la lingua (creolo iperbolico, spagnolo, yiddish); la comicità (esistenziale, vaudevilliana, burlesca); e il genere: Kat non è né lui né lei, ma piuttosto, come diceva Herriman, "un folletto", i cui pronomi cambiano all'interno di una striscia e occasionalmente all'interno di una frase, rendendo infinite le possibili configurazioni ed errori di comunicazione del fumetto.
The Paris Review ci racconta di E. E. Cummings and Krazy Kat.