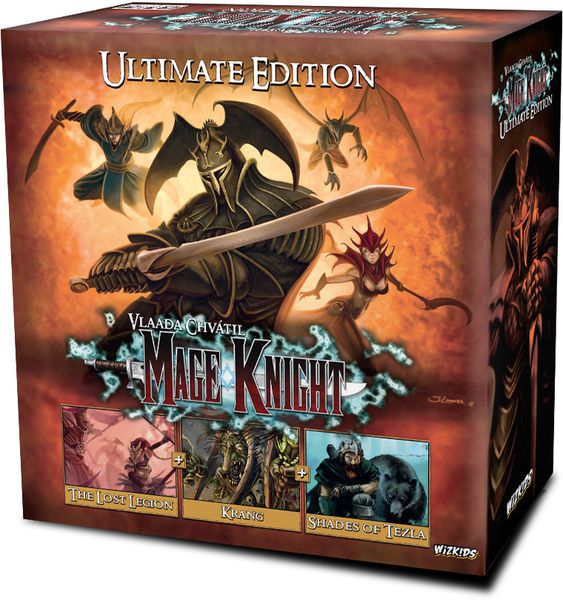 Combinando elementi di RPG, costruzione del mazzo e di giochi da tavolo tradizionali, Mage Knight Board Game ci permette di controllare uno dei possenti cavalieri-maghi mentre si esplora (e conquista) un angolo dell regno sotto il controllo dell'Impero Atlantideo.
Si costituisce un proprio esercito, si riempie il mazzo di potenti incantesimi e azioni, si esplorano grotte e dungeon, e infine si conquistano le città dell'antico impero. Negli scenari competitivi, i giocatori avversari possono essere potenti alleati, ma soltanto uno potrà rivendicare la terra come propria. Negli scenari cooperativi, i giocatori vincono o perdono in gruppo. E c'è anche una eccellente variante in solitario.
La "Ultimate Edition" contiene il gioco di base; The Lost Legion, Shades of Tezla e le espansioni di Krang; il testo completo di regole integrate; cinque nuove carte e miniature verniciate in modo alternativo.
[Solo sul mio tavolo] Mage Knight Ultimate Edition
Recensione: Mage Knight
Mage Knight : scaviamo più a fondo.
Mage Knight UE rulebook
Review of Mage Knight: UE #1
Review of Mage Knight: UE #2
Tatooine Tableflip Unboxes 56 : Mage Knight Ultimate Edition

My Mage Knight