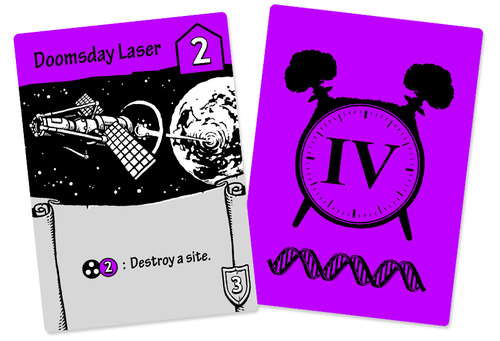 Time Barons è un rapido gioco di carte per 2 giocatori progettato da Derek Yu (suo il geniale Spelunky) e Jon Perry (review the future).
I baroni possono usare i loro seguaci per azionare i loro piani in vari siti e possono viaggiare nel tempo, in una delle quattro ere presenti (I: antichità, II: pre-moderna, III: presente e IV: futuro) per trovare le risorse e le armi per decimare il nemico e vincere. E' possibile scatenare la peste in una fabbrica che costruisce robot, oppure collegare internet ad una chiesa per aumentare le capacità di reclutare i seguaci, oppure vaporizzare completamente un sito dall'orbita.
Essendoci di mezzo Derek Yu la cosa davvero sorprendente di questo gioco, come accadeva in Spelunky, è l'infinità di modi in cui tutti questi elementi riescono ad interagire insieme, scatenando combo esilaranti. Le illustrazioni, davvero ispirate, sono sempre opera del nostro.
E' possibile acquistare il gioco direttamente da The Game Crafter oppure scaricarlo gratuitamente e stamparselo da soli.
Partita d'esempio
the unplugged gamer review
boardgamegeek
meeples next door
little metal dog review
Unplugged Gamer Review - TIME BARONS
Bower's Game Corner: Time Barons Review