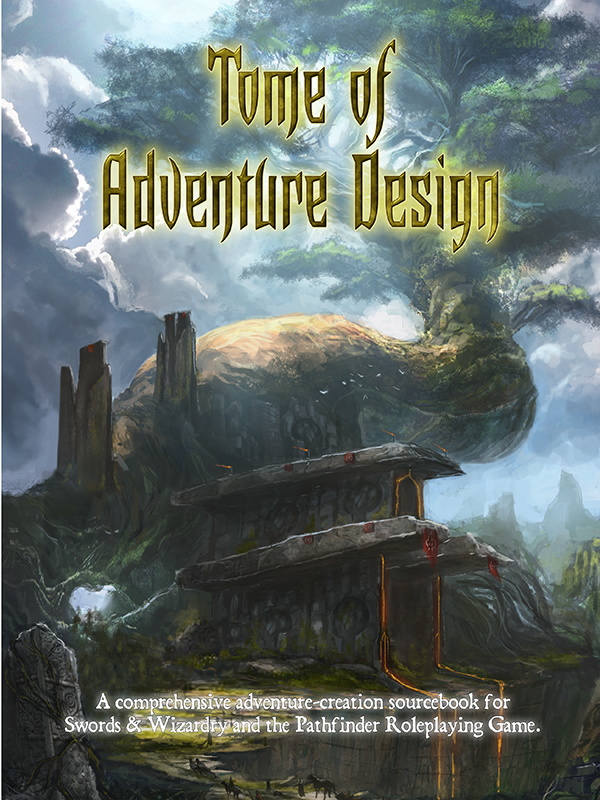 The Tome of Adventure Design, di Matt Finch, è organizzato come una serie di "libri", ognuno dei quali fornisce risorse per ogni fase dell'avventura.
La stragrande maggioranza del contenuto di questi libri è costituita da tabelle di generazione casuale che sono state scritte in oltre 25 anni per uso personale. Si tratta di tabelle per un design approfondito, in altre parole, la maggior parte di esse sono troppo lunghe, e contengono troppe voci insolite o contraddittorie, per essere utilizzate sul posto al tavolo da gioco. Ci sono già molti ottimi libri di tabelle per l'uso al volo.
Le tabelle in questo libro sono diverse. Funzionano meglio come strumento di preparazione in anticipo, fornendo risorse creative relativamente vaste per la navigazione e la raccolta, piuttosto che tabelle a uso rapido progettate per fornire ampie e veloci pennellate. Le tabelle più brevi tendono a fornire risultati criptici, progettati per alimentare la creatività del lettore nel colmare un vuoto, mentre le tabelle più lunghe sono insolitamente vasti per aiutare una migliore generazione casuale, essendo progettate per presentare un mare di possibilità.
Easy Ways to be your own GM (solo RPGing)

Solo RPG DIY