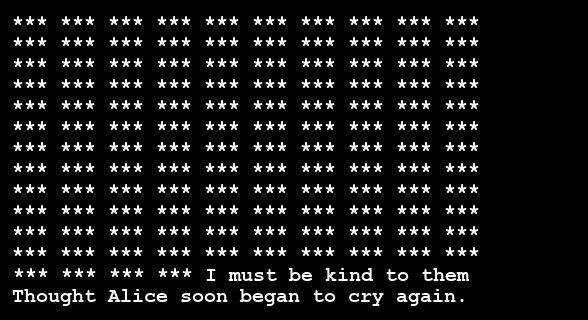 Oisin, chiamato così in onore di Fionn mac Cumhaill, grande poeta-guerriero della mitologia irlandese, è un programma in python3 scritto da Martin O'Leary.
E' un'altra fantastica applicazione del teorema Wave Function Collapse (ne avevamo già parlato) edè una delle tecnologie generative che danno risultati più interessanti.
In questo caso specifico il corpus di Alice In Wonderland viene elaborato per produrre 10 strofe in rima con la metrica corretta.
The Wavefunction Collapse Algorithm explained very clearly
Wave Function Collapse — Tutorial of a Basic Example Implementation in Python
The Rabbit asked. Up lazy thing.
The Duchess as she heard the King
The Queen said. No said Alice who
Had not as yet. I only you
Can find it. I don't like the look
Of things at all. The Duchess took
Her choice and was a little scream
Of laughter. I don't like the Queen.